For Teachers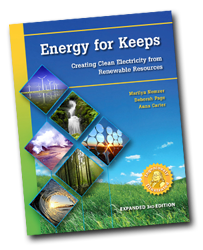 On this page you will find free downloadable information, student activities, and suggestions. The activities, like the book, are multi-disciplinary. They include earth science, environmental science, physical science, social studies, math, and language arts.
Activities are inquiry-based and, together with the book, are correlated to content standards for California public schools, grades 6-8, and to National Science Standards. If you send us content standards correlations for your state, we would be glad to put them on this web page. Please call to discuss if this interests you.
NOTE: The activities offered below include page references for the 1st edition of Energy for Keeps, not for the current (3rd) edition.
Activities
Chapter 1 – The Energy Times
Chapter 2 – Going for a Spin: Making a Model
– Steam Turbine and Getting Current: Generating Electricity Using a Magnet
Chapter 3 – Watt's My Line?
Chapter 4 – Grime Scene Investigation
Chapter 5 – Renewable Energy Action Project: What's in Your Energy Portfolio?
Appendix
Scientific Method Form, Energy Timeline, Glossary, Additional Information Resources
Content Standards Correlations
Correlation Overviews for California Content Standards for grades 6-8, and National Science Content Standards matrix for grades 5-8. Correlations are in the areas of science, social studies, math, and language arts.